Drupchen (Tib. གྲུབ་ཆེན་) – literally "vast accomplishment," is a form of an intensive group practice that epitomizes the depth, power, and precision of the Vajrayana, drawing together the entire range of its skilful methods—mystical, ritual, and artistic—and including the creation of the mandala house; the complete sadhana practise with visualization, mudra, chant, and music; continuous day and night practice of mantra; the creation of tormas and offerings, with sacred substances and precious relics; the tsok feast; the sacred dance of cham; as well as the construction of the sand mandala. 
Dzongsar Khyentse Rinpoche says: "A drubpa chenpo, a drupchen, requires all kinds of details. For example, you have to do six sessions, you must have a certain number of yogis and yoginis and the sound of the mantra must never be interrupted. If there's any drupchen happening, one must try to participate. Just as we should participate in tsok offerings, again and again, it is really good to participate in a drupchen as a Vajrayana practitioner again and again. It is believed that just going to one drupchen will take care of all samaya breakages instantly. Where there is no drupchen, one should try to organize one." 
Khandro Sangdü: Khandro Sangdü, the 'Secret Gathering of the Dakinis', is a rediscovered terma (Tib. yang ter) of Jamyang Khyentse Wangpo. The cycle contains practices of the enlightened body, speech and mind of Vajravarahi, as well as a sadhana of all the dakas and dakinis of the twenty-four great sacred places and thirty-two hallowed lands. This practice is one of the most sacred practices for purifying samayas. When samayas are purified, we can attain the ordinary and supreme accomplishments immediately. At the age of 13, the female terton Jomo Menmo, an incarnation of Yeshe Tsogyal, discovered the hidden treasure teaching of the Khandro Sangwa Kündü, the Gathering of the Dākinī's Secrets. Through its practice, in the year 1283, she achieved the rainbow body at the age of 36. Then, as recounted by His Holiness Dudjom Rinpoche in his History of the Nyingma School of Tibetan Buddhism: "This great secret which is so amazing, remained in the possession of the ḍākinīs for some time, and was beyond the reach and range of ordinary persons. The time to train beings by means of it came later in this age of strife, when, by the power of compassion and enlightened aspirations, the transmission of its words and meaning fell to the treasure finder Padma Ösel Do-ngak Lingpa (Jamyang Khyentse Wangpo, 1820-1892). This is because, first and foremost, during his past life as Guru Chökyi Wangchuk, one of the five great terton kings, Jomo Menmo had been his secret friend, and also due to his being blessed by the ḍākinīs of pristine cognition." This practice of Vajravārāhī is one of the most beautiful and elaborated among ḍākinī sādhanas and is renowned for its power to restore the degeneration of the elements—earth, water, air, and the others, and to quell the ravages of disease, famine, and war.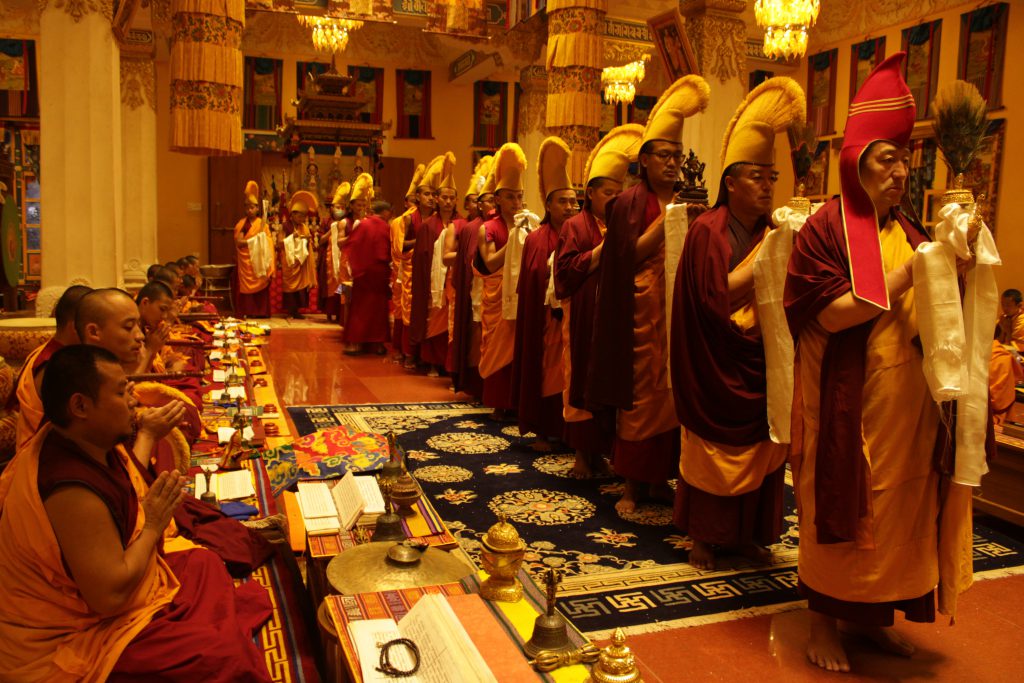 Pema Tseyi Nyingtik: Pema Tseyi Nyingtik Drubchen (Tib. པདྨ་ཚེ་ཡི་སྙིང་ཐིག) is a mind terma revealed by Kyabje Dilgo Khyentse Rinpoche, a practice of longevity based on Amitayus (ཚེ་དཔག་མེད་). Dilgo Khyentse Rinpoche first had a direct vision of the mandala of Amitayus related to this practice, arising from a lake in Dokham, while he was offering a ganachakra puja on the banks of the lake. Later, as he was circumambulating the meditation cave of Vairotsana at Pema Shelpuk, he had a dream in which Yeshe Tsogyal handed him a yellow scroll. Following Jamyang Khyentse Chökyi Lodrö's guidance, Dilgo Khyentse Rinpoche put this cycle of teachings in writing and granted him the complete empowerments and practice instructions.
Minling Dorsem: Minling Dorsem (Tib. སྨིན་གླིང་རྡོར་སེམས་) 'Mindroling Vajrasattva' — a famous practice of Vajrasattva revealed as a terma by Terdak Lingpa, Minling Terchen Gyurme Dorje in 1676from a place called Ökar Rock.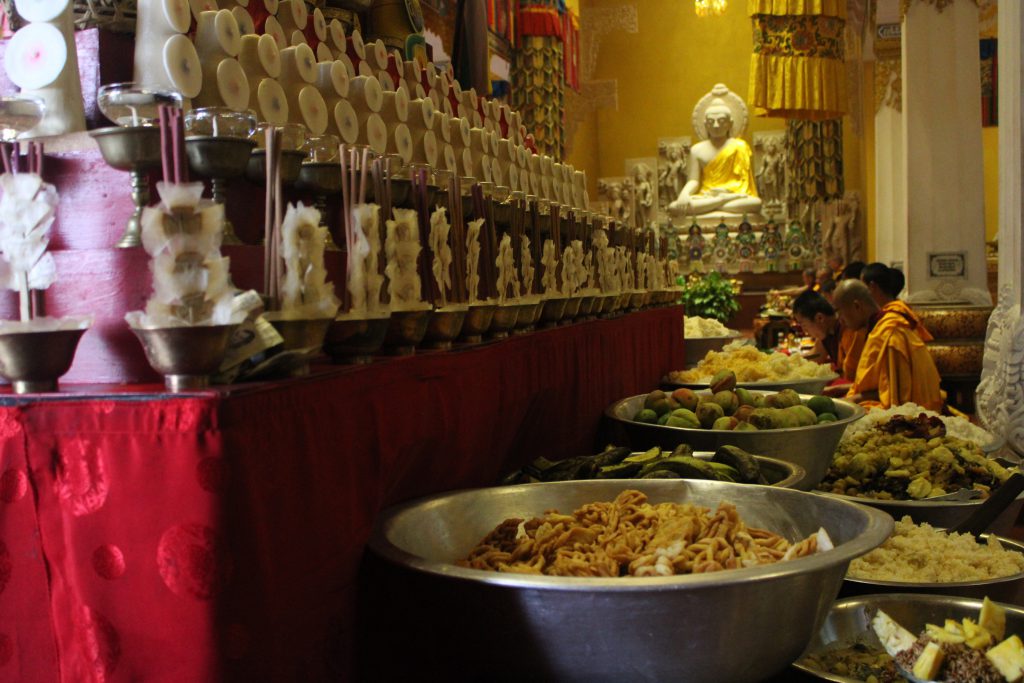 Chimé Pakmé Nyingtik: Chimé Pakmé Nyingtik (Tib. འཆི་མེད་འཕགས་མའི་སྙིང་ཐིག་, Eng. 'The Heart Essence of the Sublime Lady of Immortality') is a long-life practice discovered as a mind terma by Jamyang Khyentsé Wangpo in 1855. It features a mandala of White Tara (in the form of White Tara Wishfulfilling Wheel) in union with the Lord of the Dance. This is a brief history of Chimé Pakmé Nyingtik from Rigpa Shedra: Jamyang Khyentse revealed the terma of Chimé Pakmé Nyingtik at his seat Dzongsar Tashi Lhatse in a vision of the three masters who attained the level of vidyadhara with power over life: Guru Rinpoche, Vimalamitra and Shri Singha. Through its power and blessings, many masters, including the great Jamgön Kongtrul, have been able to remove obstacles. In fact, according to prophecies, the life of Jamgön Kongtrul would have had many obstacles, and he would not have lived very long, but for this practice of Chimé Pakmé Nyingtik. The highly respected master Jamyang Khyentsé Chökyi Lodrö, in his biography, said that he received this transmission about ten times, and held this as his most important practice. It was also the main heart practice of Dilgo Khyentse Rinpoche, who completed all the required practices seven times in retreat.